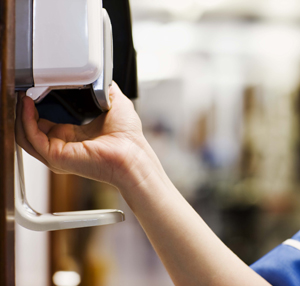 Alcohol-based antiseptics used to kill bacteria on your hands could also potentially kill your career if you're required to undergo regular testing for alcohol consumption, according to a new study.

Even though they're rubbed onto the skin rather than ingested, alcohol-based hand hygiene products can still cause the alcohol levels in your bloodstream to spike if they're applied as frequently as required in many healthcare settings. This finding, published by researchers at the University of Florida College of Medicine, has implications for healthcare workers in substance abuse programs or other situations where they're tested for alcohol use.

The same kind of alcohol found in beverages – ethyl alcohol – is used in many hand sanitizers, explains Gary Reisfield, MD, assistant professor of psychiatry at the university. An EtG urine test measures the level of ethyl glucuronide and ethyl sulfate left behind by metabolized alcohol. Researchers had 11 subjects with no history of alcohol consumption undergo EtG tests every day for 3 days, during which time they used alcohol-based hand sanitizer every 5 minutes for 10 hours each day.

The EtG results for nearly all subjects showed alcohol metabolite levels consistent with alcohol consumption, according to the study, which was published in the March issue of the Journal of Analytical Toxicology. However, the levels of ethyl sulfate were much lower in the sanitizer group and not nearly high enough to indicate alcohol use, suggesting to the researchers that ethyl sulfate could be a useful "biomarker" to distinguish alcoholic beverage consumption from the use of alcohol-based products on skin.

For now, Dr. Reisfield is warning people who are required to refrain from alcohol use to "be very cognizant about alcohol that may be hidden in products, such as handwashing gels, mouthwashes, hairsprays and cosmetics. You need to be careful not just what you put in your body, but what you put on your body."

Source: http://www.outpatientsurgery.net/newsletter/eweekly/2011/05/24
So in other words following workforce rules can lead to being fired.