This adorable little wiry girl is "Sky" – or to be more accurate "GCh AfterAll Painting The Sky."
Americas most prestigious canine club named her the top dog at the 2014 Westminster Kennel Club dog show.
Want to know more about Sky's family tree? Thats easy. We can just hop on the internet and trace her heritage back for many years. Just for an example and for fun lets trace her fathers line back as far as we can go: (Its important to note that I know nothing about dog pedigree and prefer to adopt shelter dogs that are as much of a mix as I am.)
Her dad (Sire) was Ch Fyrewyre Fast And Furious
Her grandfather was WyrLake Wicked Game ROM
Her great Grandfather was Cunningfox Santeric Patriot
Her great-great Grandfather was Bedlams the Entertaine
(going to have to drop the greats here and just number them)
Louline Heartbreaker
Louline Pickled Pepper
Skylair Special Edition
Skylair Star Leader
Harrowhill Hunters Moon
Harrowhill Huntsman
Townsville Tally'O
Wintor Statesman
Wintor Townville Tuscan
Townville Traveller
Zeloy Endeavour
Wyretex Wyns Wun Dur
Wyretex Wyns Tuscan
Culverbrook Tuscan
Talavera Romulus
Talavera Simon
Fountain Crusader

Old Tip Born 1866 in United Kingdom

Olcliffe Captain
Comedian of Notts
Morden Blusterer
Dusky Cackler
Cackler of Notts
Barkby Ben
Meersbrook Ben
Meersbrook Bristles
Knavesmire Jest
Young Jester
Old Jester
Pincher
For a detailed look at her full family tree back six generations check out the web site linked here.
Thats right we can easily trace Sky's sire lineage back to before Nebraska was even a state. For that matter, in 1866, neither Nebraska, Colorado, North Dakota, South Dakota, Montana, Washington, Idaho, Wyoming, Utah, Oklahoma, New Mexico, Arizona, Alaska, nor Hawaii were states.
We have published on this blog before about the importance of traceability:
What Does It Mean to be NIST Traceable?
If a forensics lab can't prove traceability back to at least the National Institute of Standards and Technology then the results reported out by that lab are not reliable and should never be brought into a court of law. In fact, according to ISO 17025 traceability should be proven all the way back to the International System of Units (SI).
According to the International Vocabulary of Metrology – Basic and General Concepts and Associated Terms (known as the VIM), the definition of traceability is:
property of a measurement result whereby the result can be related to a reference through a documented unbroken chain of calibrations, each contributing to the measurement uncertainty

See VIM 3 2.41 (6.10) and TAM 2011 2.1
The fact is this is not so easily done. One may, with a subpoena, of course, be able to determine one level of traceability for your local crime lab but that will be about as far as you can easily get. Unfortunately there are too many labs across the US that can't demonstrate any legitimate level of traceability in all areas necessary in their lab. It is essential that there be traceability for standards and calibrators used in analytical chemistry. Traceability applies to the reagents used by the labs to calibrate their machines. It applies to calibration of the balances in their laboratory. It applies to calibration of the pipettes in their laboratory. A good lab would be able to prove traceability for all of these things? Does your lab? Try hoping on the internet and search for traceability of your local laboratories. We bet you won't find anything. Why should we know more about the traceability of a dog in a dog show than the traceability of a lab that reports results that send men and women to prison?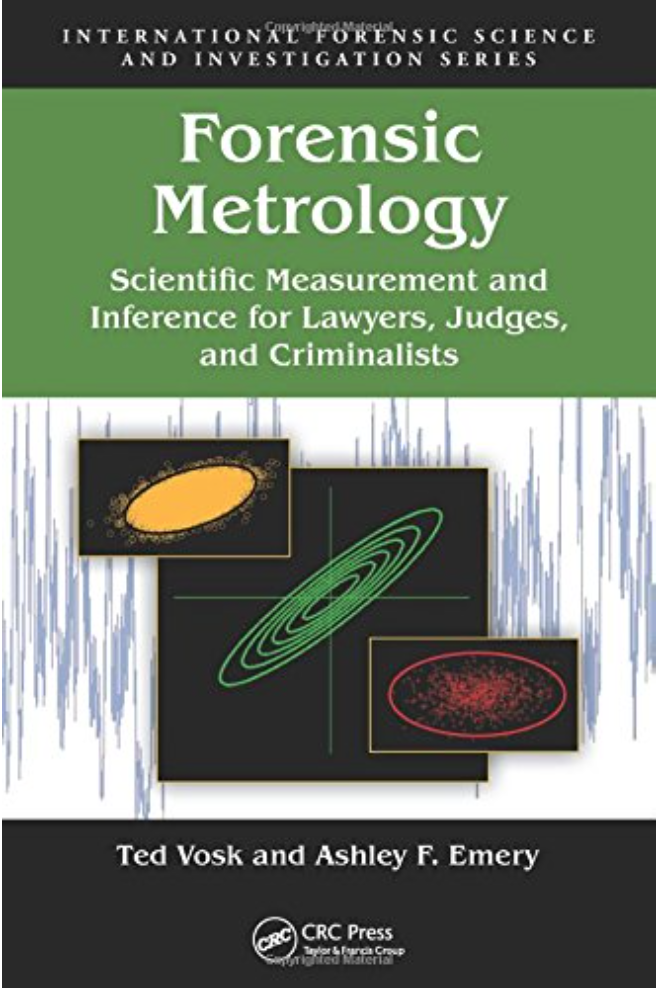 Want to learn more about Metrology in an easy to read and understand format? Pick up this book by our friend Ted Vosk. It is available on Amazon.